Group Your Safari Tabs into Collections in iOS 15
Are your Safari tabs a tangled mess? I know mine are. Every time I try to find an open website on my iPhone, I end up facing dozens, sometimes hundreds of opens tabs. Yes, there's Search, but it's not perfect if you don't remember the right keyword to narrow the results. In iOS 15, Apple has another solution: custom tab groups.
To start a new collection of tabs in Safari, tap the tab switcher icon in the search bar at the bottom or swipe up from that search bar (the latter acts similar to your iPhone's app switcher). Next, tap "[#] Tabs." Here, you have two choices: you can create a blank collection by tapping "+ New Empty Tab Group" or create a collection from all of the open tabs by tapping "New Tab Group from [#] Tabs."
When you want to add a new tab to one of your collections, long-press it from the tab switcher grid or long-press the tab's search bar and choose "Move to Tab Group." Then, tap the group you want it moved to. Note that when you make a new collection, all new tabs will move there automatically.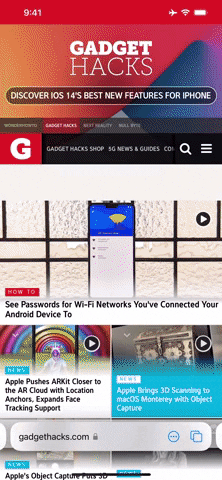 You can switch between groups in the same way; just tap or long-press on the currently viewed group name in the tab switcher (most likely, "[#] Tabs" still), then choose the group you want to see.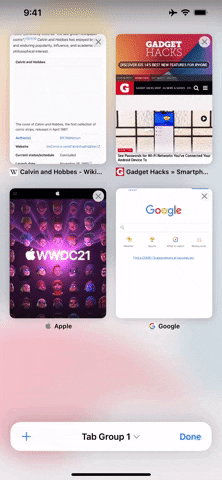 Managing Tab Groups
If you want to manage a group, just long-press its name from this list. Here, you can copy all the links in the group, rename the group, delete it, or quickly open any of its tabs. Note that when you delete a tab group, it closes all the open tabs in that group. If you want to keep some of those tabs but still delete the group, make sure to move those tabs over to another group one by one.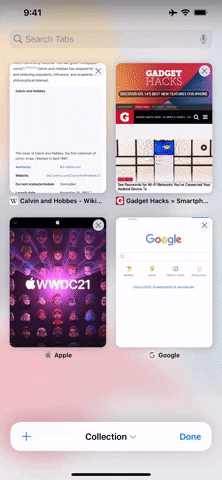 If you tap "Edit" on the Tab Groups window, you can access the same controls for each tab group by tapping its attached ellipsis (•••). You can also drag the hamburger menu icon next to each tab to reorder the groups in the list.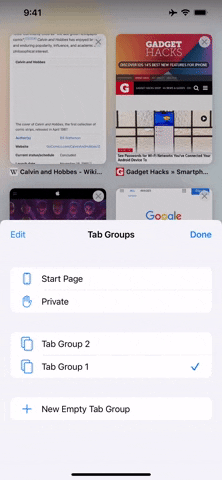 Note: Apple's iOS 15 is currently in beta development. A public beta will be available in July, while the final release isn't expected until the fall of 2021. Anything shown in this guide may change or be removed during the development cycle.